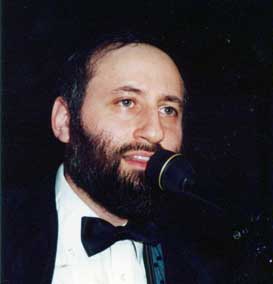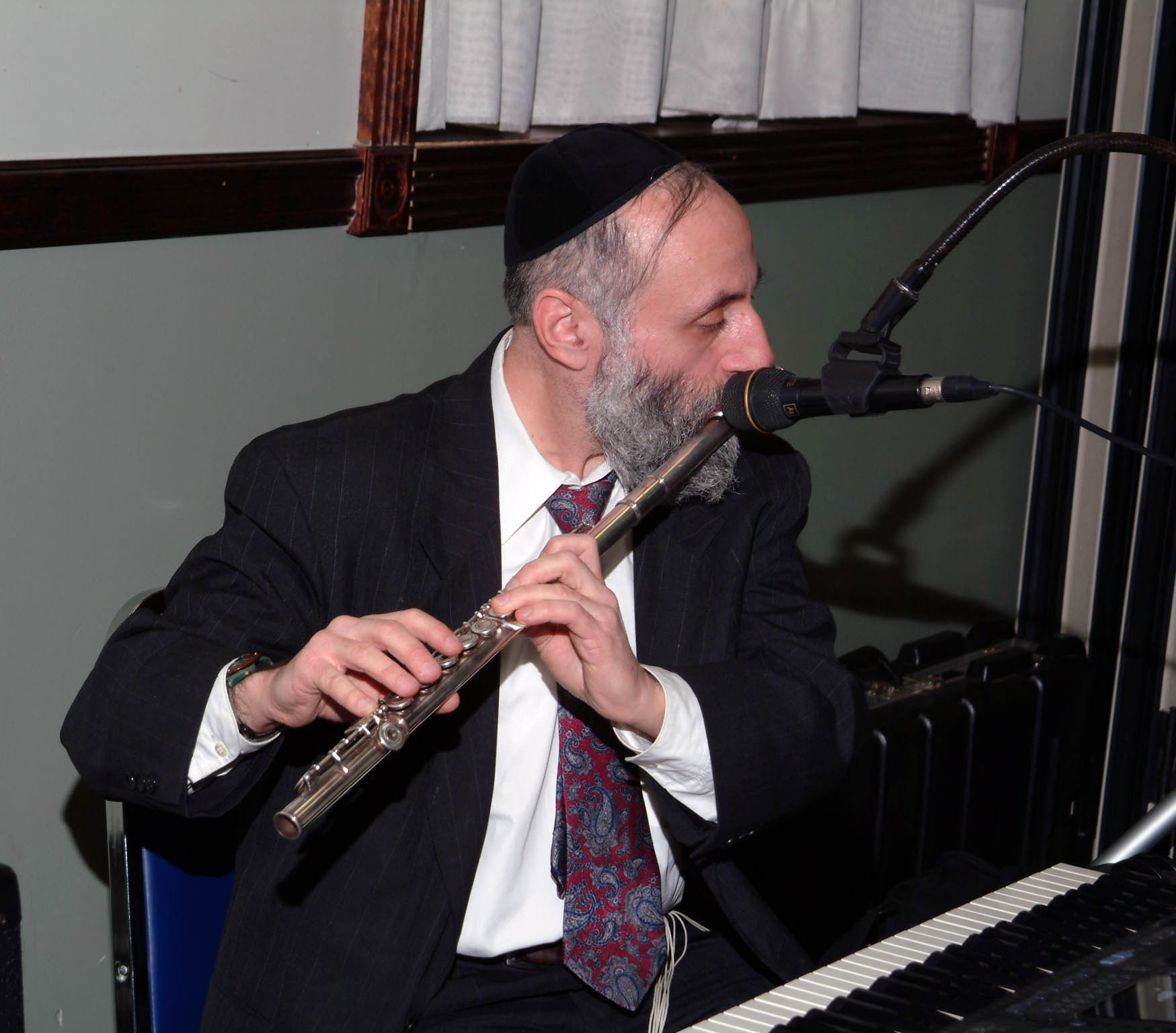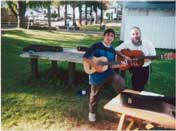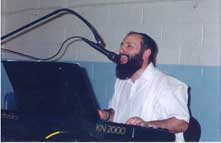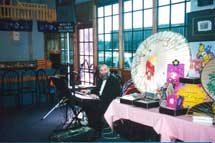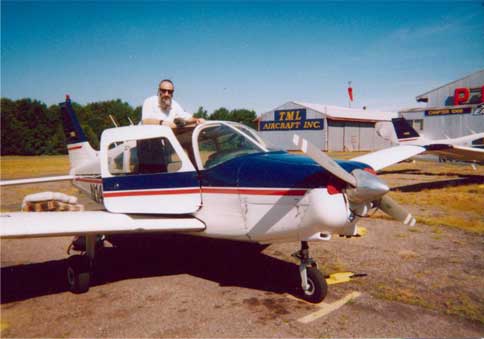 Yaakov Kranz
Yaakov Kranz started his musical career at a young age singing with choirs. Yaakov sang the harmony parts most of those years, which developed his keen sense of harmony. The choir sang at various schools including Hunter College, in New York.
A few years later, Yaakov learned how to play the guitar, primarily self-taught by ear. He quickly became a favorite in his Yeshiva, playing Mesibos, Kum Zitzes, and various functions throughout the year.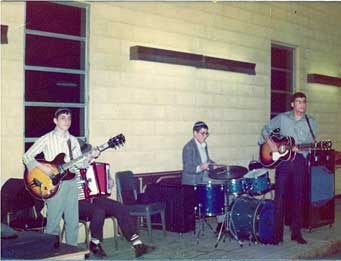 (That's me on guitar to the left, Age 14.)
Four years later, Yaakov started learning to play the drums. His experience with the guitar having fostered his sense of rhythm allowed Yaakov, in only a few short months, to be proficient enough to play drums in public.
At that time, Yaakov decided to pursue music on a professional level and he started taking lessons in both guitar and drums.
"I used to go to a music store to take these lessons. I would take a half hour on guitar with one instructor, then the other half hour was on drums with a different instructor."
Yaakov also recalls:
"My guitar teacher handed me some music to learn in between lessons. The "Etude" was a duet (made up of two parts), and I was assigned one of those parts for homework. For the upcoming lesson I would play my assigned part, while the teacher would play the other part."
"When I got home, I practiced both parts and figured out a fingering technique that allowed me to play both parts at one time. I then performed the duet for him, playing both parts!"
On one occasion, when Yaakov was playing drums in a band, he had the pleasure of playing with a bass player who had "picked up" the flute. Yaakov loved this new instrument and started to pursue the flute.
"One of my colleagues who played clarinet, sax, and flute, was nice enough to go to the store with me and help me select a flute. He also gave me a lesson to start me off with the instrument. I continued to take lessons periodically and became proficient on the flute. I used to bring the flute along when playing simchos on drums. When the occasion called for background music, I was able to shift from playing the drums to playing the flute. The flute was also a favorite with chuppah music, as drummers do not play at the chuppah."
After a number of years playing weddings, Yaakov started pursuing yet another of his instruments, the trumpet. Yaakov took lessons on trumpet for about a year with two different instructors. Yaakov "sat in" with bands, playing second trumpet (harmony). He eventually led his own band, singing and playing second trumpet. However, when he started "fiddling" around with the keyboard and saw this instrument as an extension of the guitar, Yaakov shifted his attention towards this new instrument.
"I have always loved harmony and rhythm. The "one man band keyboard" combines both. It was a relatively easy transition from guitar and drums, because I already acquired a good knowledge of chords and rhythm, and just applied it to the keyboard."
Yaakov found that his background in numerous instruments has helped him greatly with his keyboard skills.
"The fact that I took up all these instruments helped me with regards to the keyboard. As a preface, I must explain that the newer keyboards have amazingly realistic sounds. The manufacturers of these keyboards sample sounds of musical instruments and place them on memory chips to be recalled at the touch of a button."
"The guitar trained my ear and gave me a good sense of harmony and rhythm."
"The drums strengthened that foundation of rhythm, and was useful when programming the drums section of my keyboard."
"The keyboard does not come with stock accompaniments that are suitable for Freilach dances; you have to create them yourself."
"There are those who create accompaniments and sell them to others. I wanted to create these patterns for myself, and I created these accompaniments in a meticulous manner. The drum and rhythm parts are very realistic! As you are probably aware, the drums and bass play an integral part in the whole feel of dance music, and it's a very important part of the band."
"My accompaniments are not for sale, and no other keyboard player can acquire them."
The Flute didn't directly contribute to my keyboard playing, but it is a great asset to have. This is because I have some soft music which I programmed the keyboard for automatic playback, leaving out the lead instrument. This allows my hands to be free to play the flute along with these songs giving a beautiful sound and adding elegance to the Simcha." I also play the flute by the Chuppah, which is unique for a "One Man Band".
"Anyone who appreciates nice soft music, and who has seen and heard me perform with the flute, will attest that this asset alone places the Kol Yaakov orchestra "one man band" a notch above others." (click here to hear Yaakov on flute.)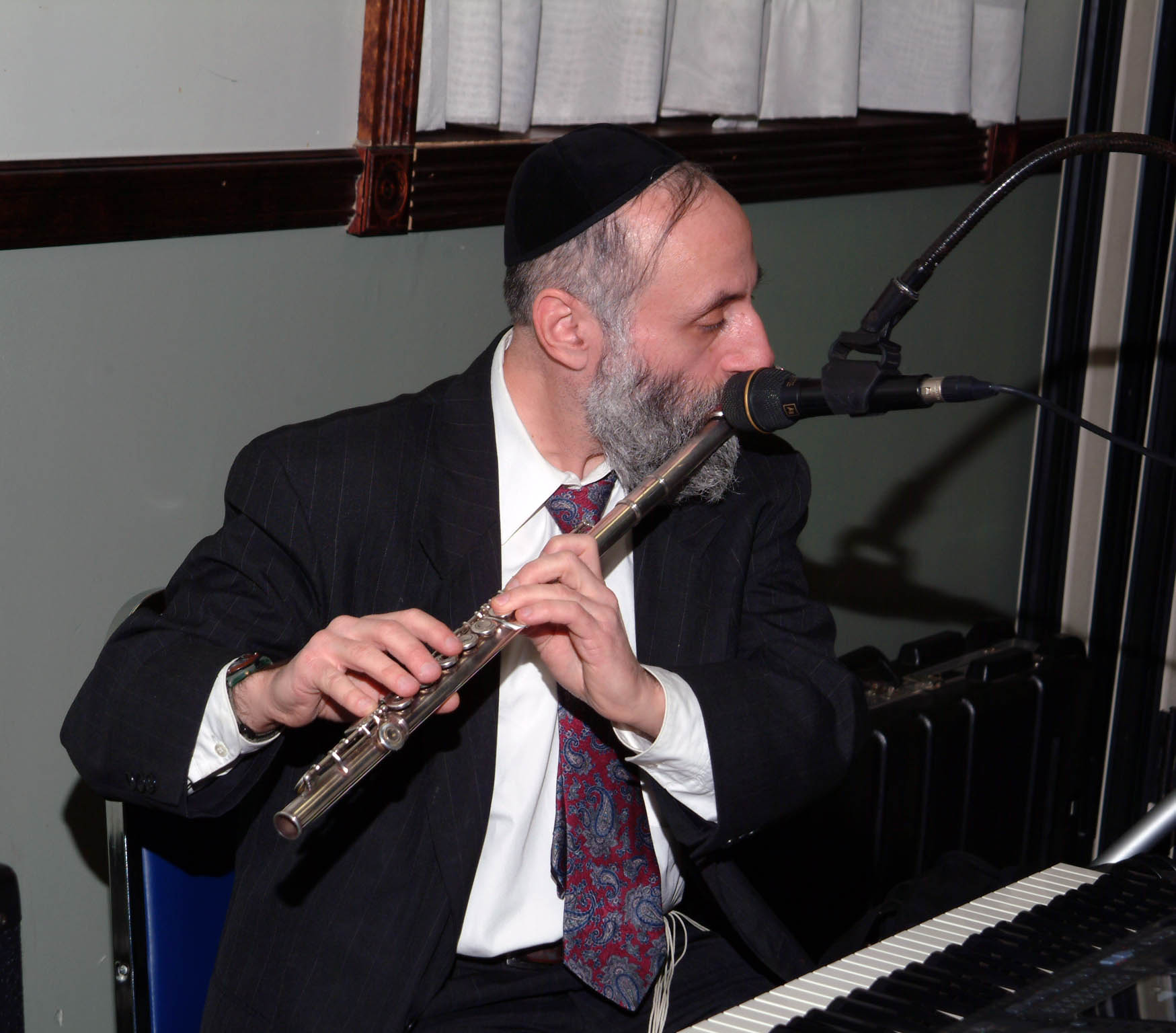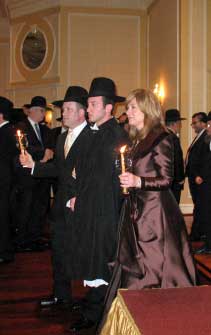 "The Trumpet Contributed to the realism in which I play the trumpet sounds on the keyboard. As mentioned, the sounds in the newer keyboards are samples of the real instruments. To get a realistic sound, you must play the instrument along with its nuances. In other words, you have to play it the way a real player plays it. Learning the trumpet gave me the tools to be able to recreate and play the brass and trumpet sounds in a realistic manner."
"At times I play the trumpet to "bring in" the Choson to the Badekin, as well as at the chuppah after the Chososn breaks the glass. Again this adds another dimention to this "One Man Band".
"People (and musicians themselves) have told me, that when they were outside the hall, they thought that there was a multi-piece orchestra, and they were surprised to see that it was actually only myself at the keyboard".
The last thing, which is very important in the whole "one man band" scene, is the singing musician. Many players just play and play well. When you also have a good player that sings well, it takes the simcha to a different level. Fortunately Yaakov Kranz not only plays well, he also sings beautifully, and has the capability to harmonize his voice as well! This gives an incredibly big vocal sound, it's as if he is singing with 3 other people!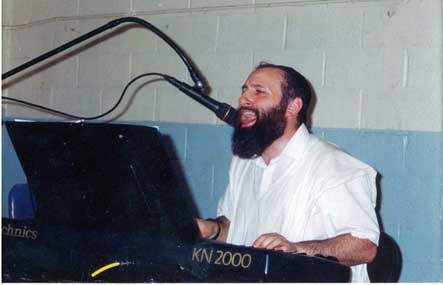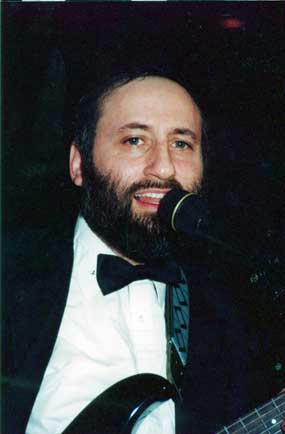 "The proponents who advocate having a full band at weddings will argue that the "one man band" is not diverse enough. To a degree this is true, as it is impossible to recreate all of the variables of the real instruments. However with the addition of only one "real" musician or even a singer, you really add a tremendous amount of realism to the "one man band!"
I refer to this as an "Extended One Man Band"
By the way, If you're planning to have a friend sing by your simcha, I have a lot of experience in backing up vocalists. Below is a partial list of singers which I have had the pleasure to play with, either on keyboard, or guitar.
(Listed alphabetically by last names )
Abish Brodt
Shloimie Dachs
Ari Goldwag
Dov Levine
Michoel Pruzansky
Abie Rottenberg
Lipa Schmeltzer
Yaakov Shweky
Mendy Wald
Mordechai Ben David Werdyger (MBD)
Yisroel Williger
amongst others
See You at your next Simcha !!!
Yaakov
(718) 868-1800
kolyaakovorchestra@verizon.net