Simcha Ideas
Do you have the right stuff ?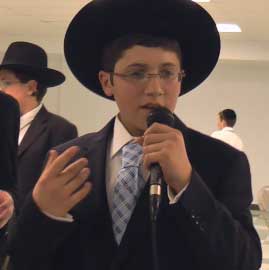 I have a recording studio, and have recorded music and/or vocals for local Yeshiva Events, plays, and productions. I also recorded Shloime Dachs as well as Yaakov Shwekey.
A few Years ago, I was approached by a couple who's son is a talented young man, and composed a few songs. He also sang beautifully. They asked me to arrange the music for his compositions as well as to play and record the music. After the recorded tracks were laid down, I recorded the Bar Mitzvah boy singing his compositions and the final mix was burned to cd. The cd's were reproduced and given out at the Bar Mitzvah. I didn't have to hire other musicians for this project as I played and arranged all of the music.
What a Great Idea!
If your son has the "right stuff", then you might want to have a recording of him before his voice changes!
It can be an original song, or a well known song, the idea is to get a good recording of his voice! This can be an affordable way of capturing a very precious moment!
Below is a partial clip of what I recorded (original songs from a 12 year old boy - with permission).
Click on the song (in this color) to play it, then
Call Yaakov at 718-868-1800 to find out more details
BaSuccos (Gets faster half way through)
Ki Tov (Basic recording)
Recently added 12/12/10 A Shortened version of the famous song
Vhi Sheamda sung by Pesach Futersak
Schedule a recording session! Call 718-868-1800